When you don't have a lot of space to train, you need this "Indoor Sword". The weight and feel are very close to HEMA longswords and Feder (federschwert or fechtschwert), making it ideal for training in a small space - at home, in a hotel room, locked in a dungeon...
It is a bit strange at first, and it will take a few minutes to get used to the feel - your brain will need to adjust to the difference between what your eyes are telling you and the feel of the simulator in action. But once the initial disorientation is past, it's a joy to manipulate!
-------------------
These swords are forged and assembled traditionally in a workshop, some small variations in weight, dimensions and colour are to be expected.
(hand-made product - exact match to photos and measurements are not guaranteed)
Composition

1.8159 (51CrV4) Steel

Weight

1350 g (approx)

Total Length

69 cm

Blade Length

34 cm

Point of Balance (CoG)

On the guard

Blade Node (CoP)

n/a

Assembly

Threaded (Can be disassembled)
Gábor P. published the 15/05/2020 following an order made on 04/05/2020
Very useful training tool for practicing indoors, especially during the COVID quarantine.
Alice M. published the 15/05/2020 following an order made on 02/03/2020
Loved the sword that I purchased: it met all of my expectations and was well made, good value for its price and lovely final quality.
Related Products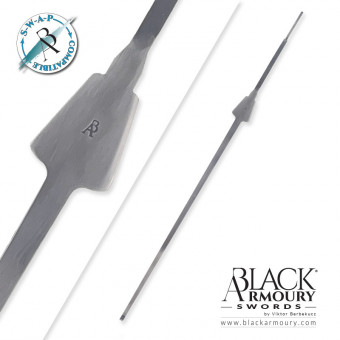 Feder Blade N° 3 for SWAP System - Black Armoury
Replacement Blade : Feder N° 3 for Black Armoury SWAP
SWAP Compatible
Previous
Next