The SPES heavy gloves v. 1.0 are designed to protect your palms which are exposed to injuries during trainings of historical fencing. Our protective heavy gloves provide full cover for four fingers and thumb.
The outside part of the palm and fingers are also protected by the overlapping plastic elements made of polypropylene. Polypropylene represents a high resistancy to cracks which guarantees a higher durability and resistance.
The 11cm cuff made of fabric is reinforced by six covered with leather elements which aim is to protect the wrist's bones.
On the wrist there is also a leather belt with a buckle which enables the fencer to better adjust the glove to fit the palm.
The inner part of the gloves is covered with synthetic leather. The quilting of the gloves provides additional amortization against the hits.
Now thanks to our heavy gloves, trainings with heavy weapon, feders or dussacks will become much safer.
SPES heavy gloves v. 1.0 upgraded available since 1.05.2014. Upgrades in comparison to the 0.9 version:
-more comfortable gloves with three fingers,
-increased protection and stiffening of the thumb thanks to applying more protective elements,
-additional layer of leather stiffens and protects the wrist and the palm,
-the leather belt with a buckle gives the possibility of a better adjustment of the glove to the palm,
-longer cuff and additional protective elements covered with leather,
-the inner part of the gloves is covered with synthetic leather,
-more comfortable way of fastening the plastic elements to the glove,
-new more durable rivets,
-introduction of different sizes.
Material: natural leather, synthetic leather, cotton, polypropylene
Weight: 0.95 kg
Vidéo:
https://www.youtube.com/embed/vlxJVVwKuVo
To choose the correct size of the gloves, please take the measurements basing on the picture below:
Measurement
Size XS 
Size S 
Size M/L
Size XL
Palm girth (A)
~22cm
~23cm
~24cm
~26cm
Wrist to end of middle finger (B)
~18cm
~19cm
~20cm
~21cm
Wrist to end of thumb (C)
~13cm
~14cm
~15cm
~16cm


2 other products in the same category: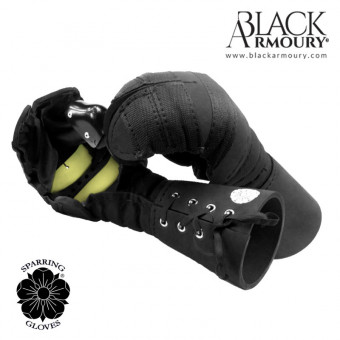 Hoof Gloves - Sparring Gloves
SG Hoof - split-finger shelled glove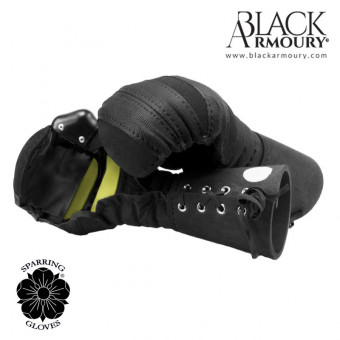 Mitten Gloves - Sparring Gloves
SG Mitten -  shelled mitten glove
Previous
Next
Customers who bought this product also bought: