Black synthetic "Ovegrip" for one sword - extends the useful the life of your original leather or cord, improves the grip, slightly reduces impact vibrations without sacrificing blade feel.
One roll is sufficient for the majority of sword grips - tested on Regenyei Standard Feder, Black Armory Feders and Longswords by Berbekucz.
(Be careful, they might be a bit short for extra long grips, like some feders, montantes, etc. - you may need 2 rolls).
This grip can also be used advantageously on Viking shield grip, on your Roman scutum, your bucklers, daggers, viking and battle axes ...
Florian R. published the 08/03/2023 following an order made on 14/02/2023
Pas encore essayé, la largeur semble moins grande que sur la photo. A testé. Ma note ne vaut rien car non testé
Evelyne B. published the 25/01/2023 following an order made on 20/11/2022
Conforme au descriptif
1 other product in the same category: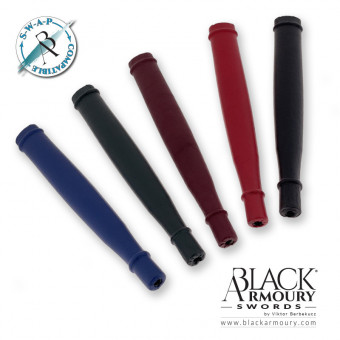 Grip for SWAP System - Black Armoury
Grip for Black Armoury SWAP
SWAP Compatible
Previous
Next
Customers who bought this product also bought: