Swordsmen have known a simple truth for ages – If your ultimate goal is to wield a sharp blade safely and effectively, you need to supplement your training with a tool that approximates the size, feel and heft of a blade, yet minimizes the possibility of causing grievous, permanent injury to yourself or your training partner.
This concept was implemented by many cultures, including the ancient Romans, who used wooden swords (the rudis) to train their legions.
Wooden training tools, however, can rot, crack, chip or splinter. Cold Steel's solution was to design a line of synthetic polymer substitutes. Low in cost and unaffected by all but the most extreme temperatures, they are waterproof, weatherproof and astonishingly durable. 
*Be responsible - always work under control and with appropriate protection, especially around the eyes; even a synthetic trainer can be dangerous.
Also, in the current climate of heightened security in public places, it is not recommended to modify these trainers by painting them with metallic colours. This would make them indistinguishable from a live weapon from a distance.
200 g (24 oz)
Blade Thickness: 19 mm (3/4")
Blade Length : 560 mm (22")
Total Length: 787 mm (31")
Material : 

Polypropylene
Composition

Synthetic

Weight

Flex : Category

Black "Fully Rigid"

Total Length

Period

Antiquity
3 other products in the same category: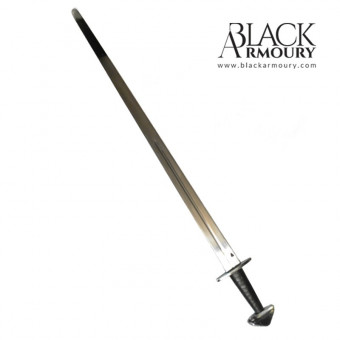 Viking "Pyramid" - HEMA Sword - Black Armoury
IXth century Viking Sword, steel blade with a secured tip.  Wheeler Type H/II 
BLACK ARMOURY EXCLUSIVE.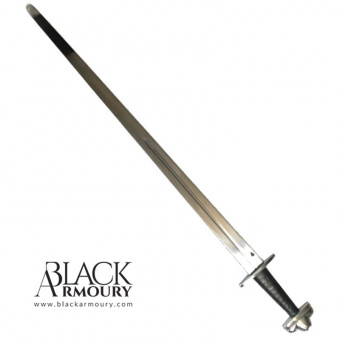 Viking "Trilobe" - HEMA Sword - Black Armoury
Viking Sword, flexible blade with a secured tip.
BLACK ARMOURY EXCLUSIVE.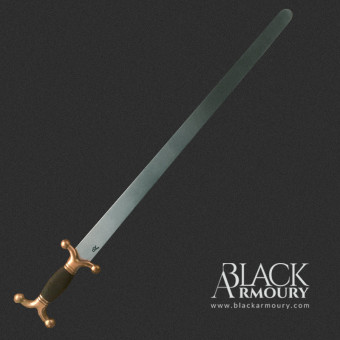 Celte Hallstatt N°1 - Épée AMHE - Black Armoury
Celtic (Hallstatt) Steel HEMA Sword
Previous
Next
Customers who bought this product also bought: