FOR TARGET PRACTICE ONLY - DO NOT USE THESE ARROWS FOR ARCHERY TAG!
Wooden target or field arrows with metal sportspoint, plastic nocks.
3" or 4" turkey feather, 11/32 diameter, non-selected northern pine shafts.
Shaft length is 28" or 32" with field points glued on.
It is suitable for our TAS Squire Bows or any other 30-60 lb draws weight bows. Ideal length is equal to your draw length  + 1" (2,5 cm). If in doubt, choses a longer length rather than shorter.
The color of fletching can carry and is not guaranteed.
Composition

Wood

Total Length

71 cm (28") or 81 cm (32")
1 other product in the same category: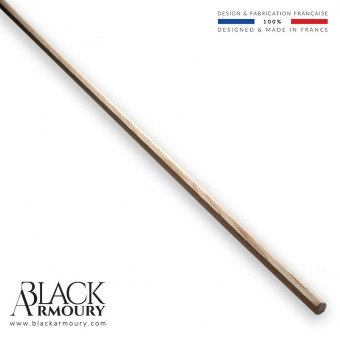 Staff or Haft - Octagonal 30*30 mm
Ash-wood staff or polearm haft - octagonal section
Previous
Next
Customers who bought this product also bought: