Thanks to pioneering innovations in the world of high-strength polymer production Cold Steel is proud to offer this hard wearing octagonal Training Staff. It is an excellent training tool for cross-training across multiple Martial Arts disciplines. Perfect for pell work and for conditioning training, this high-impact staff will make an excellent addition to any Martial Artists training regime!
Careful : this staff, though synthetic is NOT any safer than traditional wood staves. The advantages of the polymer are weight, durability and that they are impervious to the elements (especially water and humidity that can warp wood staves). Train with these staves as you would with a wood staff or any other polearm - carefully and with full control.
Composition

Polypropylene

Weight

1140g (40.3 oz)

Total Length

137 cm (54")

Shaft Dimensions

38 mm (1 1/2") Octagonal
1 other product in the same category: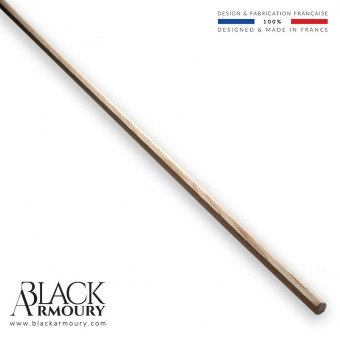 Staff or Haft - Octagonal 30*30 mm
Ash-wood staff or polearm haft - octagonal section
Previous
Next
Customers who bought this product also bought:
Rawlings synthetic longsword with extended grip.