CAREFUL - THIS ITEM CANNOT SHIP DURING THE COVID-19 CONFINEMENT; YOU MAY STILL ORDER BUT SHIPPING WILL TAKE PLACE AFTER THE CONFINEMENT MEASURES ARE LIFTED.
After several months of hard work Bellatore has announced their new longsword.

Federico Malagutti and Keith Farrell provided design advice and testing, with the goal of making the sword suitable for Liechtenauer and for Fiore students.

Bellatore offers two versions, one closer to the original (with a shorter grip) and one with a larger grip, more confortable for HEMA gloves.
Weight

1480-1500g (short grip) - 1550-1590g (long grip)

Total Length

119 cm (short grip) - 126,5 cm (long grip)

Blade Length

97 cm

Point of Balance (CoG)

9,5 cm (short grip) - 6 à 7 cm (long grip)

Blade Width @ Guard

55 mm

Guard Length

26 cm

Grip Length

16 cm (short) - 23 cm (long)
3 other products in the same category:
Indoor Sword N°1- Black Armoury
Indoor feder or longsword traîner - for training in cramped spaces.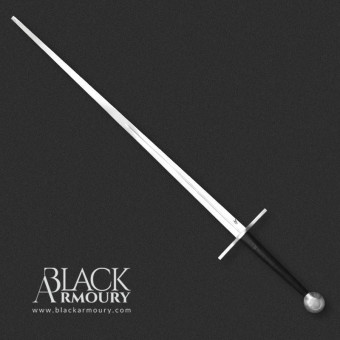 Longsword N°2 - HEMA Sword - Black Armoury
Longsword N°1 - HEMA Sword - Black Armoury
Previous
Next
Customers who bought this product also bought: