The ARCEM range of jackets focuses on two essential points: offering maximum mobility and allowing the best protection for the chest and throat.
Mobility is ensured by the precision of the seams on the shoulders and back, allowing your padded jacket to adapt to your movements. It is accentuated by cutting work on the forearms which, with the collar system, makes it possible to "fix" the jacket to its wearer at three different points (the two forearms and the neck). The rest of the jacket "floats" around the body: this cut model is inspired by different types of doublets from the 14th century, while meeting the contemporary expectations of HEMAs.
Our most unique contribution (today copied but never equaled) remains the collar of the jacket, created to close over the bib of the mask.
We had three criteria for the design of this collar:
that it offers maximum protection in the throat and lower face, both against waist and thrust
quick and easy to open and close, even with bulky gloves, for those who need to breathe between assaults
that it unifies the mask and the jacket in a single protection without impeding the movements
The double protection of the bib and the collar prevents injuries from thrusting in the throat and head.
Even more unique, this throat protection runs up to the nape of the neck, in order to guard against blows from all sides.
The collar has three blade catchers to "trap" the opposing blade (on the front and sides) that extend to the ears. It is designed so that a passage of the blade toward the throat is redirected towards the mask or further away from the body.
The collar can be opened to dissipate the heat and remove the mask. With a little practice, it quickly becomes easy to put on your collar yourself, even with bulky gloves.
Improvements in version 2 include:
Standard left closing
CE and 800N certified
Stronger woven materials
a blend of cotton and polyester
a mold-resistant synthetic cotton anti-abrasive fabric
Double closure on the front
two industrial quality closures (YKK Coil zipper)
an internal closure which allows the maintenance of the plastron
an external closure to fasten the jacket
a Velcro band sewn along the torso to protect the outer closure
Reworked padding materials
reduced volume and increased impact protection
improved breathability
anti allergenic synthetic materials
machine washable
Reduced volume at the neck
Precision seams, doubled at different key points
New seams designed to maintain mobility while increasing strength
A new palette of colors available
Reduced cost for customizing sizes
A wider choice of customisations (text, logos, flags ...) to find in the section "embroidery on your ARCEM jacket"
Sizing
This version of the jacket is completely CUSTOM. See the measuring instructions under the "Download" tab above
Colors
Our standard color is black.
All ARCEM Custom jackets are available in different colors at no additional cost.
Related Products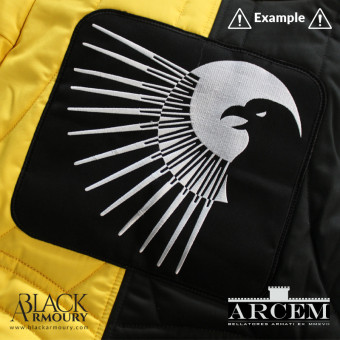 Black Armoury Embroidery Service
Custom embroidery option for ARCEM, DOHEMA, SPES and DMZ Jackets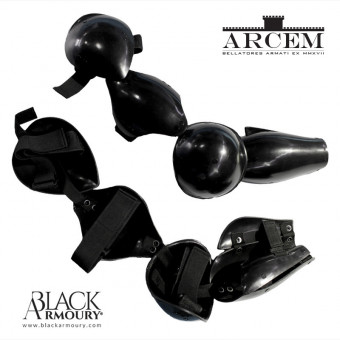 Full Arm Protectors - Synthetic - ARCEM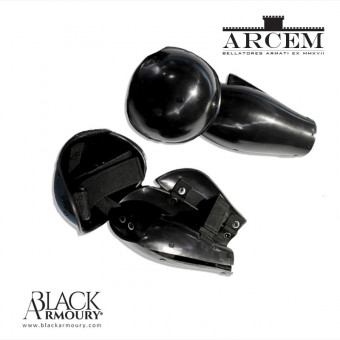 ARCEM Forearm Shell - Synthetic
Previous
Next