The ARCEM 800N HEMA Jacket is an upgraded version of our well known Black Armoury V1 Jacket.
(Size charts, colours and colour options are available in the DOWNLOADS tab above)
After a year of additional research and development and a 6 month pause in production to "get it right", the 800N jackets are now available to order.
Upgrades to Version 2 include:
Left Zipper standard

CE and 800N ratings throughout

Higher quality tear restart outer fabrics:

Cotton-polyester blend

Abrasion resistant
"Gym Rot" resistant (higher strength over time)

COOLMAX® fencing fabric lining
Double closure 2 zipper front:

2

Highest quality industry standard YKK Coil zippers

Inner zipper holds the inside torso flap in place
Outer zipper closes the jacket

Full length Velcro closure to protect the outer zipper

Revised padding material:

Reduced bulk, while maintaining impact protection

Increased breathability

Synthetic anti-allergen wadding
Now machine washable

Semi-Rigid sewn in nape of the neck protection

Reduced bulk of the over-bib collar

Computer controlled precision stitching, with double stitching at all key points

Updated stitching pattern to maintain mobility while increasing resistance

An extended palette of available colours

Lower additional cost for full custom sizing
Custom embroidery option for text (Name, country, Etc) and flags or logos
Retained features:
The ARCEM range of jackets focuses on two things - maximum mobility and maximum throat and neck protection.
The mobility is achieved through precise contoured stitching of the shoulders and back, allowing the padded jacket to move freely with the wearer. This mobility is accentuated by close-fitting forearms, which, with the collar system, "tie" the jacket to the wearer at three points (forearms and neck) with the rest of the jacket slightly "floating" around the body. This solution - while inspired by examples of fit and assembly found in XIVth century pourpoints - is still unique in contemporary HEMA clothing.
Our most unique contribution (now copied but never matched) is the collar, which is designed to close over the mask bib.
We had three criteria in designing the collar : 
that it offer maximum protection of the neck and lower face in both thrust and cut,

that it be easy and fast to open and close with gloved hands for sparing and tournament "breathers",

that it unify the mask and jacket into a single protective unit without hindering combat movement (once broken in).
Because it is worn outside the mask gives double protection from thrusts to the front - collar plus mask bib.
More uniquely, and not present on competing over-bib collars, it provides protection of the neck, all around, from strikes.
The collar has three blade catchers (front and both sides) that extend to behind the ears. It is designed so that the blade passage inside the jacket at the neck must strike the mask or be moving away from the body.
The collar can be opened to let off heat and raise the mask. With just a little practise, it is a simple matter to re-close the collar, even with heavy combat gloves.
Sizing
You can find our Size Chart and Measuring Instructions in the DOWLOAD tab above.
Our standard sizes are numbered 0 to 4.
We can produce each size as a "Long" version, which adds length of the jacket torso and the sleeves.(+10€)
Fully custom sizing is also available for a cost of 40€. Contact us for details.
Our jacket however fits differently to other jackets, so it's best to retake your measurements from our chart.
Colours
Our basic colour is black.
The jackets are available in other standard colours for an additional cost (+20€)
Ronny S. published the 26/11/2022 following an order made on 04/07/2022
Well, the jacket. What can I say. My mistake was that I ordered the unfortunately one size too small. Thus, the arms are a bit short, which does not necessarily bother. Clearly more strenuous is breathing in a tight jacket.... Nevertheless, the freedom of movement of the arms is phenomenal. The padding perfect. The workmanship terrific. The collar very bulky, so that the stab protection of the mask does not fit over it. Or should you pull the mask under the collar. I will order me next year another ARCEM. To do that, I'm going to a tailor to have the correct measurements taken before I order.... The jacket also caused a stir and I got only positive feedback.
Anonymous customer published the 18/08/2021 following an order made on 30/04/2021
I'm happy to say that it was worth it to wait all that time ! Very good quality, mobility is preserved. Iam impatient to try it in a sparing.
Related Products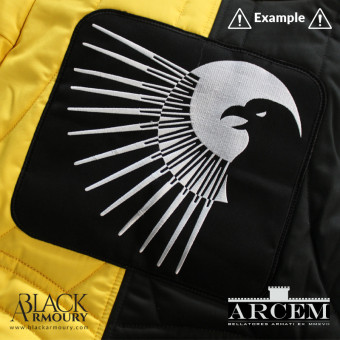 Black Armoury Embroidery Service
Custom embroidery option for ARCEM, DOHEMA, SPES and DMZ Jackets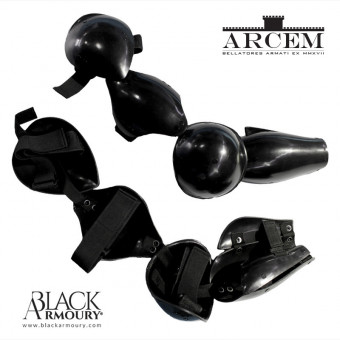 Full Arm Protectors - Synthetic - ARCEM
Previous
Next