A traditional, hard wearing ash-wood square Polearm Haft, 100% Made in France (grown, harvested and processed within 100km, and made 5 km from our location in the Auvergne).  
Sold in 1.8 meter (6 foot) lengths.*
They are unfinished (not laquered, varnished, stained, waxed or oiled), lightly sanded natural wood. You may wish to further sand them a bit to "break" the angles for additional comfort, and if desired, you can finish the wood to your liking.
The square cross-section is common on polearms throughout Europe.
This cross-section is commonly found alongside octagonal and round sections on European polearms. All our ARCEM synthetic polearm heads are standardised to the dimensions of this haft (30 mm face-to-face). You will need to shape the butt-end to fit a round blunt. This is easily done with simple hand tools (rasp and/or knife, sand paper).
Careful! A polearm, even in synthetic training versions, is a dangerous and highly effective weapon. Train with polearms carefully and with full control, even if you think your protective gear is sufficient... it is not.
*Please be aware that we may not be able to ship hafts to your location and that these lengths will cost substantially more to ship. Also please be aware that we cannot ship wood products AT ALL to Australia and some other destinations. Feel free to contact us so we can discuss the possibilities.
Composition

Ash Wood

Total Length

160 cm (66")

Shaft Dimensions

30 x 30 mm (1-3/16")
Cyprien R. published the 01/04/2023 following an order made on 09/02/2023
Good. The handle could do with a bit of sanding, but the grain of the wood is continuous and the haft shouldn't break
Anonymous customer published the 01/02/2021 following an order made on 07/12/2020
very good quality
Related Products
Poleaxe MK1 - ARCEM by AUDEO
Made from hard rubber, ideal for safe training and sparring.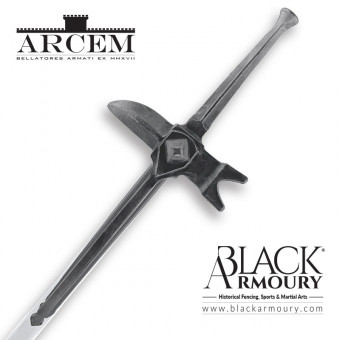 Lucerne Hammer - ARCEM by AUDEO
Made from hard rubber, ideal for safe training and sparring.
Historically accurate.
Previous
Next