100% Made in Europe : Stabilisers in Germany, Blades in France.
In the 16th century, Joachim Meyer and other fencing masters used the Dussack as a training tool to introduce beginners to the Art of Fencing. It was also very popular for friendly bouts in the fencing schools.
Today, we still use wooden and synthetic Dussacks during HEMA training to practice techniques or during bouts with our clubmates.
These leather aluminum and leather Dussacks, however are new and unique to the HEMA scene.
This unique, high-end training tool is the result of a close cooperation between Black Armoury and our friend the Jester of Blades in Germany.
Based on an original synthetic design by Allen Karlsson, Jester took the concept to the next level of elegance and performace :
He redesigned and "skeletonised" the stabilisers and makes them in his German workshop from high quality, CNC machined aircraft aluminum. These stabilisers "sandwich" a leather blade in between them.
The leather blades are sewn in France by a renowned saddle-maker using some of the highest quality leather available.
The leather provides cushioning while the aluminium gives the necessary rigidity to fence all your favourite pieces from your favourite dussack tratises like Paulus Hector Mair or Joachim Meyer, for example.
Additionally the purposely rough leather edge simulates the bite sharp blades have in the bind.
The stabilisers are sand blasted for a pristine matt finish which beautifully compliments the black leather of the blade.
Two pre-threaded holes in the handle allow for upgrading your Dussack with handle scales you can either make yourself or buy at JoB in the near future.
The assembly is securely screwed, which allows you disassemble the dussack if you wish to wax or oil the leather for maintenance, or if you wish to change out the blade in the future.
Not for use against steel weapons - you would quickly damage the blade.
Composition

Aircraft grade aluminium, saddle leather

Weight

560 g (19-3/4 oz.)

Total Length

66 cm (26")

Blade Width

52 cm (20-1/2")

Point of Balance (CoG)

13 cm (5-18")
1 other product in the same category: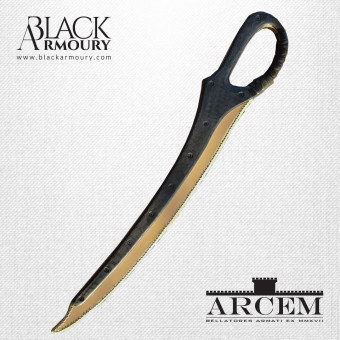 Meyer 1570 Dussack - ARCEM
Synthetic and leather Dussack designed by Allen Karlsson
Previous
Next
Customers who bought this product also bought:
Synthetic and leather Dussack designed by Allen Karlsson