Our ARCEM 1570 Dussack is an excellent training and sparring tool, designed in Germany by Allen Karlsson.
The glued and saddle-stitched heavy leather blade is supported by a high resistance synthetic spine. The designs are based on Joachim Meyer's 1570 Gründtliche Beschreibung der Kunst des Fechtens treatise.
This unique construction provides a dussack that has:
superior edge binding, allowing for highly refined blade work;
very low bounce - much less than any full-synthetic on the market;
enough stiffness in the blade to work from the bind;
an all leather point to work at the thrust
We recommend that you use this dussack in pairs for ideal edge binding and a similar impact sensation on both sides, but it may well be used against other synthetic materials.
The ARCEM 1570 dussack is comprised of a long cutting edge ideal for cuts, of a false edge used for the counter-cut, and a flexible leather tip allowing it to be used in the thrust (with the appropriate protection). The hand is protected by a synthetic guard that passes in front of the fingers, and the Model "B" provides extra space for wearing heavy gloves.
-----
The ARCEM line of simulators was developed by bLACK ARMOURY and the current designs are refined in close collaboration with some of the best HEMA practitioners and gear designers in the world. Like all ARCEM products, these weapons also have an unmatched visual elegance, combining the best of traditional and high-tech materials and construction. 
The minimalist design and materials of these simulators offer unlimited possibilities of customisation (painting, taping, dressing, etc.). These characteristics make them excellent for parallel uses: reconstitution, theatre, cinema, or even cosplay.
-------------------
These trainers are hand made and assembled traditionally in a workshop, some small variations in weight, dimensions and colour are to be expected.
(hand-made product - exact match to photos and measurements are not guaranteed)
Weight

Approx. 700 g

Flex : Category

Yellow "Semi-Stiff"

Total Length

76 cm (80 cm along the blade)
Anonymous customer published the 29/12/2021 following an order made on 16/12/2021
I really like the concept of leather sandwiched between two plastic plates; it absorbs shocks better on both the long and short edges. The price is also very reasonable. My one issue is the grip and guard both need an extra rivet as the plastic is not fully adhered to the leather. It appears they've compensated for this with black duct tape on the guard, but that doesn't look or feel like a particularly solid solution. There are also some sharp edges on the plastic around the handle. Overall, it's a good idea and a decent product that requires a bit of refinement.
Anonymous customer published the 11/12/2021 following an order made on 03/12/2021
Exactly what I was expecting.
1 other product in the same category: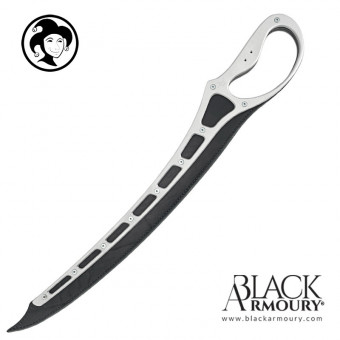 Dussack - Aluminium & Leather - Jester
Unique high-end aircraft grade aluminium & saddle leather dussack- for sparring & drills.
Previous
Next
Customers who bought this product also bought: