The "Rada" Rapier (previously named the Bellatore "Academia") is designed to be a standard practice model. Its dimensions, taken from the book "Experience of the Sword" by Francisco Lorenz de Rada, are ideal for the practice of later Destreza. From Francisco Antonio de Ettenhard in 1675 to Rodríguez del Canto in 1725, a period of fifty years, they are preferred by the masters of the True Destreza of the late seventeenth century. Inspired by original pieces, it seeks a compromise between practical simplicity and the aesthetics of historical models.

All models are adapted to the hand of each fencer following the specifications of Rada, to offer a comfortable and perfect grip for the practice of Destreza. The blades are flexible for safe thrusts without swaying or yielding when the cut is applied.
To measure correctly, follow the instructions to the letter, do not adjust thinking that the measurements are too small or too large. Trust the measure!
Take the measurement as indicated in the image below. Subtract two and a half centimetres (more or less) to distribute the size of your hand over the entire grip and so the pommel will rest on your wrist. This is the measure that to select on the order page and the grip measure. If you are experienced and your way of wielding the sword is different, no problem, just enter the size you prefer.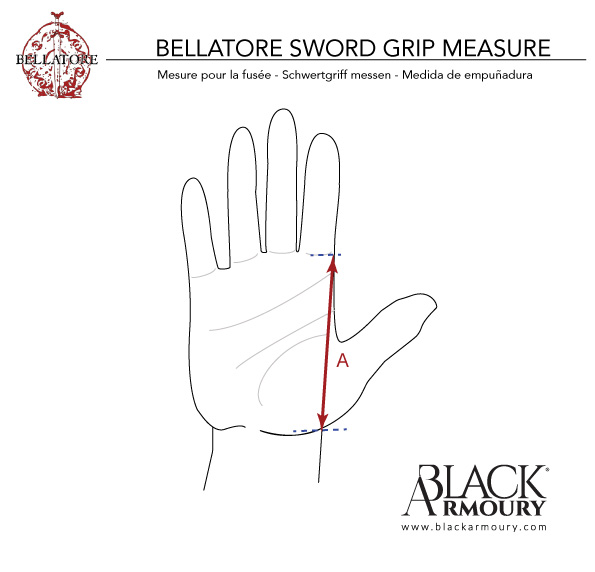 Weight

900 - 1000 g

Total Length

114 cm (approx)

Blade Length

104 cm

Point of Balance (CoG)

13 cm (approx)

Guard Length

28 cm

Grip Length

Custom
Related Products