Stretchy suit trousers offering complete freedom of movement, engineered for ultimate professional performance.
Sustainable Italian luxury fabrics.
Elegant, machine-washable and non-iron.
Ingenious pocket system for cards, passport and masks.
Universal Trousers for Ladies & Gentlemen
Hosn are the jeans of the 21st century: One pair of pants to rule them all!
Ideal for business and sports
Suits an active urban lifestyle
For global travellers & home officers
Technical Specifications
Full freedom of movement: 135% stretchable
210 g/m light-weight fabric (standard for Jeans is 350 g/m)
1.000 N tensile strength
11 pockets (standard for suit pants is 4)
Skin-friendly OekoTex & bluesign certified textiles made in Italy
TROUSERS SIZES
Hosn ready-to-wear sizes range from XS to XL, W26″ to W42″, EU sizes 34 to 48, corresponding to US and UK sizes 8 to 26 for ladies and 36 to 48 for men.
Hosn are also available custom tailored.  Black Armoury only carries the standard sizes, but visit HOSN.com to order you custom size !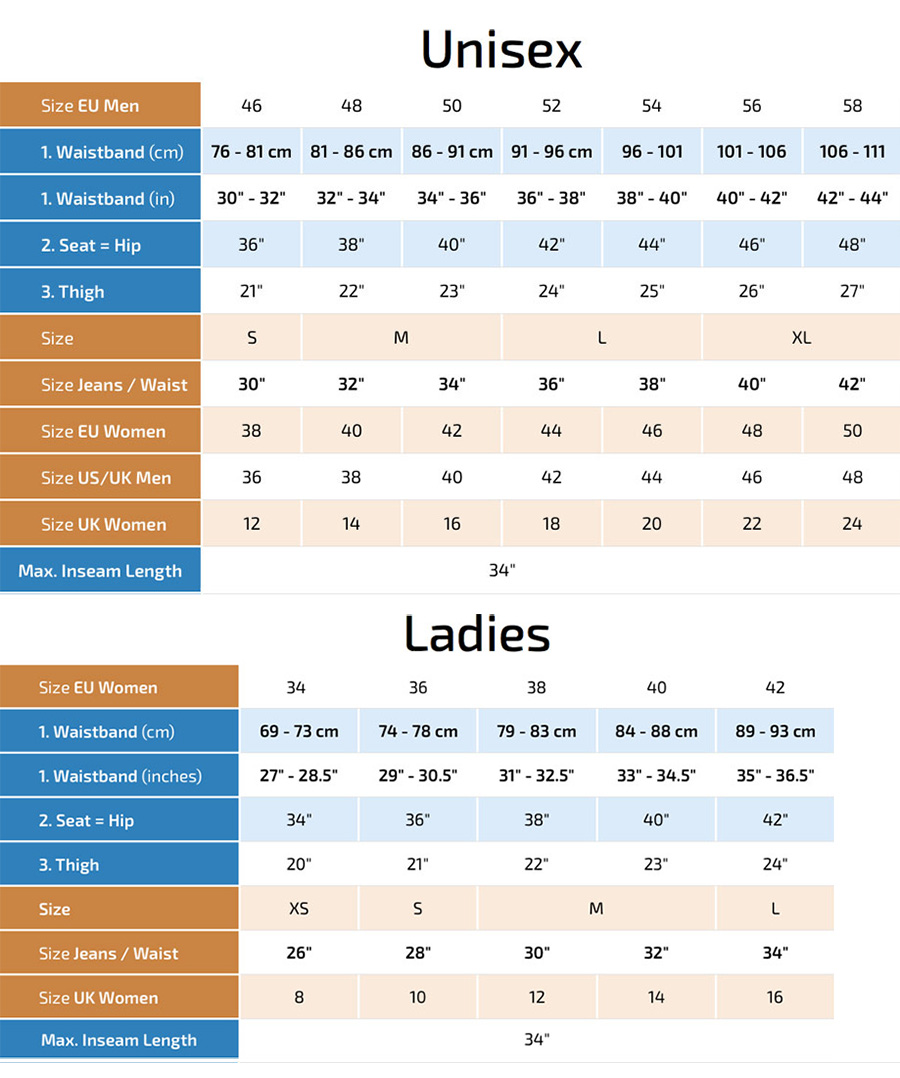 HOW TO MEASURE
This Measurement Guide helps you to take all measurements yourself with a regular tape measure. If you need assistance, let a local tailor help you.
For the best fit, please take all measurements on or close to the skin, not above trousers or jackets. Thank you!
Did you know?
The Seat Size, or hip size, i.e. the circumference around the widest part of the buttocks, is the traditional basis of trousers sizes in Europe.
For ladies, if your seat size is 34″ your Hosn size is probably 34.
For unisex sizes, just add +8. So a seat of 40″ would fit in a size 48 unisex Hosn. A similar principle applies for UK/US men/women sizes: One size corresponds to a step of 2 inches hip circumference.
Of course in the modern XXXS-size-craze era, this system is not in use everywhere. But we're doing our part in making sizes serve their purpose of choosing a good, individual fit.
 

SIZE (WAISTBAND)

The only measurement you need for your Hosn is the width around the top of the hip bone where the waistband of the trousers will sit snugly.

1st important note: This is not identical to the usual "waist" size above the hip. So if your size is W32 for jeans it will probably be 33″ for Hosn!

2nd important note: Please measure above your underwear, not above your trousers (as pictured for aesthetic reasons). Hosn stretch, so they should sit tightly. When in doubt, go for the smaller size. Unless you prefer to wear a belt or tuck your shirt in – and you won't have to worry about gaining a bit of extra weight.Plus sizes aka Bauchhosn: Please measure where the waistband will actually sit, same as for regular sizes. The waistband goes under the belly and sits higher up in the back.

Anatomical reference: Full circumference along iliac crest

Result: Approx. 27″ to 45″ or 68 cm to 113 cm
 

OUTSEAM LENGTH (CM)

To ensure Hosn will fit you, check if the length from above the waistband to your desired hem does not exceed 105 cm (41″) for ladies and 112 cm (44″) for unisex Hosn.

Note: Because the waistband covers the iliac crest, measure from slightly above the bone.

Anatomical reference: Distance between iliac crest and metatarsals (according to your taste)

Result: Approx. 88 cm to 112 cm
 

INSEAM LENGTH (INCHES)

The inseam length is different from the outseam length.

Jeans lengths in inches (e.g. L36) are measured at the inseam from the crotch to the hem.

Hosn come at a fixed inseam length of 32″ that can be extended up to 36″.

Anatomical reference: Distance between perineum and metatarsals (according to your taste)

Result: Approx. 32″ to 36″