Women's model of Axel Pettersson Fencing jacket is a product designed on a base of a male version which was created with a help and suggestions of Axel Pettersson, also to serve needs of historical fencing in a best possible way ("Gothenburg Historical Fencing School" in particular). Noticing growing group of ladies within HEMA community along with growing popularity of this Jacket model we decided to redesign it in a best way to be suitable for ladies anatomical shape.
Except the fact that it is well-fitted, jacket keeps all the assets of male model such us fold on the front fastened with zipper and Velcro, special collar with Velcro and blade catcher in front. Also the special construction of the sleeves for better arm movement during fighting.
To increase the protection level jacket has thick amortization layers on the chest, ribs, shoulders and elbows. The construction consists layers such us: outer layer (made of durable cotton fabric), amortization layer and inside lining (same colour as outer).
All the examples of Woman's Axel Pettersson jacket are equipped with new, stronger zipper YKK with durability of 90kg/cm. It's "reverse" type which helps to prevent from accidental hooking it with the weapon when fighting.
The jacket is made of fabrics which have a 350N puncture resistance certificate.
"AP" Women's Fencing Jacket 350N v3.0 (10/2016):
• changed cut, which is better fitted for women's body
• wider range of measurements in order to choose suitable size easier
• additional possibility to adjust the jacket at the belt due to the fastening strap at the back
• slits at the back, which allow better fitting of the jacket and free movement of the whole body
Women's "AP" Fencing Jacket V2.0 (09/2015)
• The fabrics have been certified 350N puncture resistance.
• The construction of the jacket was strengthened.
• More durable zip.

Women's Axel Pettersson Fencing Jacket V1.2 (07/2014)
Outher fabric has been changed to obtain higher resistance. Basis weight of the fabric is now minimum 750g/m2.
NEW WOMEN'S SIZE CHART

(applies to "AP" Women's Fencing Jacket 350N v3.0):
| | | | | | | |
| --- | --- | --- | --- | --- | --- | --- |
| Size | XS | S | M | L | XL | XXL |
| Chest girth (cm) | 76-83 | 83-90 | 90-97 | 97-104 | 104-114 | 114-124 |
| Belt girth (cm) | 60-67 | 67-74 | 74-81 | 81-88 | 88-98 | 98-108 |
| Hips girth (cm) | 84-91 | 91-98 | 98-105 | 105-112 | 112-120 | 120-128 |
| Arm legth (cm) | 56 | 58 | 60 | 62 | 64 | 66 |
| Height(cm) | 158 | 163 | 168 | 173 | 178 | 183 |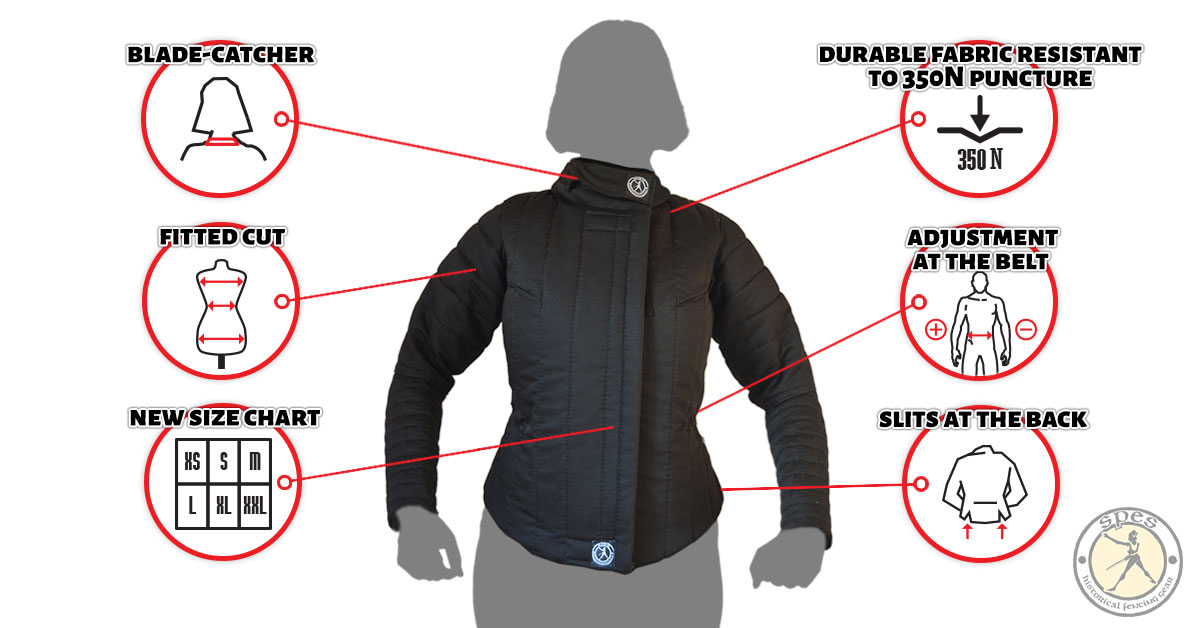 Customers who bought this product also bought: