A set dedicated to non-invasive upgrade of "Lobster" Heavy Gloves v. 1.0.
The set consists of two overlays made from styrogum and four elastic laces.
Overlays improve the functionality of "Lobster" Heavy Gloves in older version by increasing the protection level of thumbs. Thanks to their structure, they minimize the risk of possible injuries during HEMA trainings. Elastic laces ensure stability of SPES Caps and hold them on thumbs. The set is light and easy to install.
To mount the overlays correctly, please follow the instructions below:
Bring the set out of the packaging and check the number of elements.
Put the overlays on thumbs, covering the first plastic segment and propounding the second through the opening.
Attach the laces to the nearest elements fastening the plastic segments to gloves. The rest of laces can be cut off or hidden under the segments – you decide.
Enjoy your training with increased protection of a thumb!
Related Products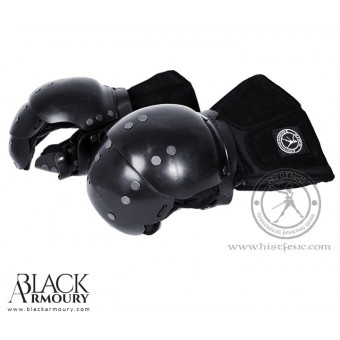 Heavy "Lobster" Gloves - SPES
Heavy Gloves reinforced with plastic shells, it offers excellent protection for sword fighting with steel.
Previous
Next