A re-usable, three-layered colored face mask. This face mask has an additional insert of one layer of spunbond with an OEKO-TEX1 certificate.
Designed for covering the face to prevent from unintentional touching the mouth and nose area.
---------------------
These masks are NOT medical grade, and are not designed for healthcare work or for use in close proximity to known COVID-19 cases.  They are however perfect to avoid you touching your face while out or in training, and fall well within the definitions specified by the authorities for "alternative" or "everyday" protective masks for the general public.
Aslo, these masks are a supplement to the "standard" measures in the COVID-9 context - please, continue to wash your hands regularly, avoid unnecessary physical contact, etc.
This linen mask can be used at home, in the garden, during a walk, while shopping, and thanks to its ease of breathing, even during training.
Linen is a natural fabric which is widely accepted as having positive health benefits. Among others, it stops the growth of bacterias and fungus (it is antibacterial and hypoallergenic).
Face masks were first introduced to the SPES offer seasonally, against pollen and particulate pollution. In today's context of COVID-19, they are also useful as general public alternatives to paper pharmacy masks.
Each face mask is equipped with soft, elastic rubber bands for mounting on ears. Thanks to them, the linen face mask can be fitted to your individual face shape. NOTE - rubber bands are not tied, so you can fit them to your own needs. For example may prefer to have them pass behind your head, rather than your ears.
We recommend that you have with a few of these masks for effective laundering and using (see care instructions below)
Production and safety:
The linen face masks are sewn in Poland from high quality materials.
High standards of safety and hygiene in production are in place. Production takes place in a workshop closed to outsiders and everyone involved in the production process uses personal protective equipment and hygienic preparation.
At final stage of the production, face masks undergo a process of disinfection by an ozonation process. Then, the product is packed in a plastic bag and sealed up.
The linen face mask is available in three sizes:
- L (suggested for most adults)
- M (suggested for older children and smaller adults)
- S (suggestd for children)
To choose a correct size, please follow the measurements pictured.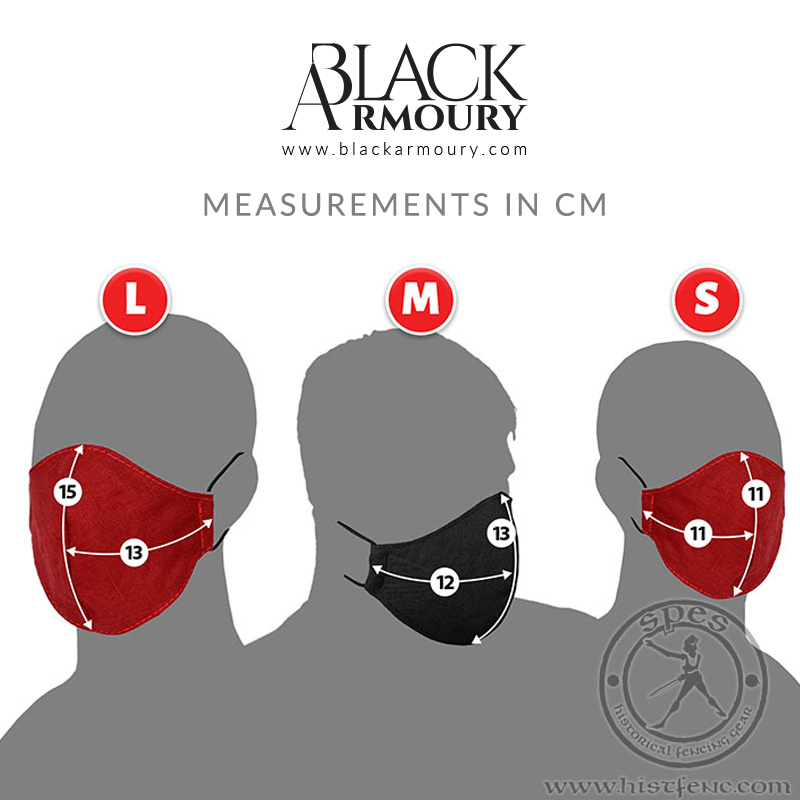 Measurements can slightly differ by +/- 0,5 cm.
Product features:
- re-usable
- lightweight and does not hinder movement
- triple-layered
- stylish and durable
Safe use of face masks in presence of viral or bacterial diseases
Safe removal of the mask: When a mask is used in an environment with potential viruses/bacterias, you need to be careful while taking the mask off and do it by holding the rubber straps. Put the mask in a bowl and wash your hands.
Disinfection: After putting the face mask in a bowl, pour boiling water in. Keep it in for around 10 minutes. After that, put it to a washing machine or leave it to dry and later iron it.
Laundering and disinfection2
Face mask should be laundered at 70-95°C (160 to 200° F), with the use of detergents and later ironed on a low setup.
1 - Oeko-Tex takes into account the many ways that toxic substances can harm the human body. To be Oeko-Tex certified, all components of a finished cotton product (thread, buttons, etc) must meet strict standards. The Oeko-Tex Certification processes focuses more on the end product, rather than how the cotton is grown.
2 - For more, please follow the Stanford Medcine publication: Stanford Medcine. COVID-19 Evidence Service | Addressing COVID-19 Face Mask Shortages [v1.2] Updated March 25, 2020.
Customers who bought this product also bought: